Well, today I had the pleasure to attend the Island Corridor Foundation's official announcement of an agreement between Southern Railway of Vancouver Island and VIA Rail that would bring passenger service back to the Island, and release the funds to repair the track and bridges for both freight and passenger trains.
UPDATE: This afternoon media sources have contacted VIA for their reaction and VIA spokesman Jaques Gagnon has said that no deal has been "signed, sealed, and delivered". I just listened to CBC Radio On The Island interview ICF co-chair Judith Sayers who said that, Gagnon is technically correct but that the ICF received approval from VIA to use the term "tentative" agreement at today's press conference. So in effect they are both correct. Technicalities aside, Sayers said the agreement will be ratified by the three parties and things will move forward.
ICF Co-Chair Judith Sayers on Twitter:
@chrisalecanada @dougswhite We Announced a tentative deal that needs to be ratified by 3 boards-VIA, SVI & ICF-negotiators recommend to bds

— Judith Sayers (@kekinusuqs) April 3, 2014
VIA says no agreement until it is signed-which is true- but agree in e mail to ICF a tentative deal has been reachedhttp://t.co/c4uDlmJ9mS

— Judith Sayers (@kekinusuqs) April 3, 2014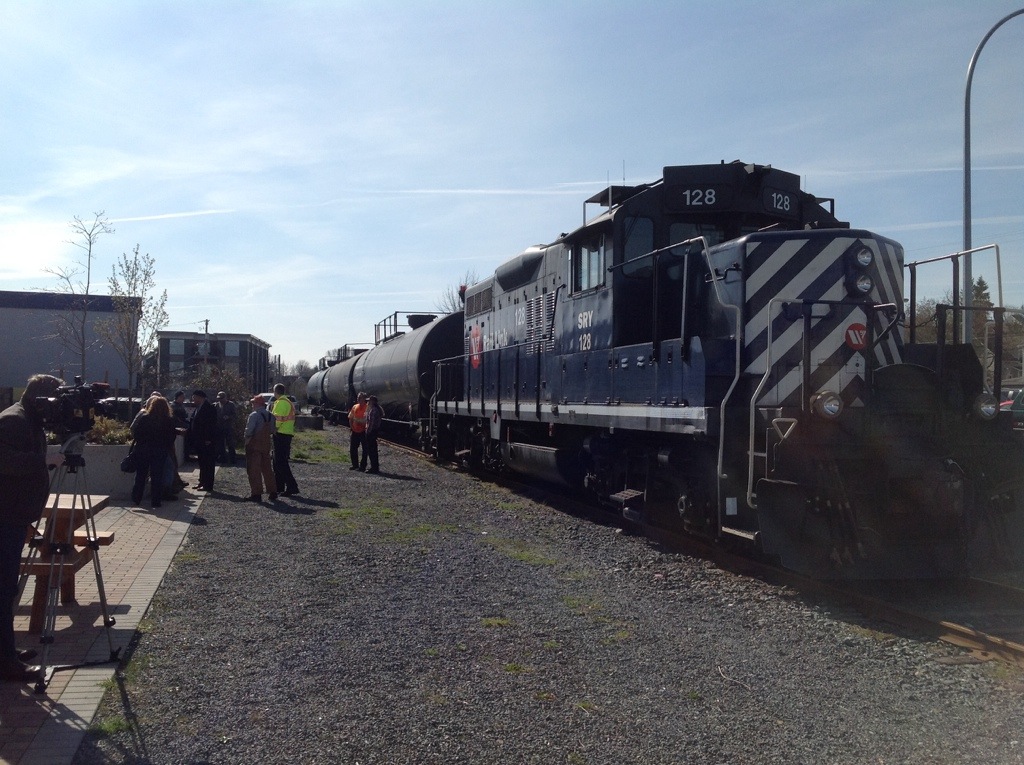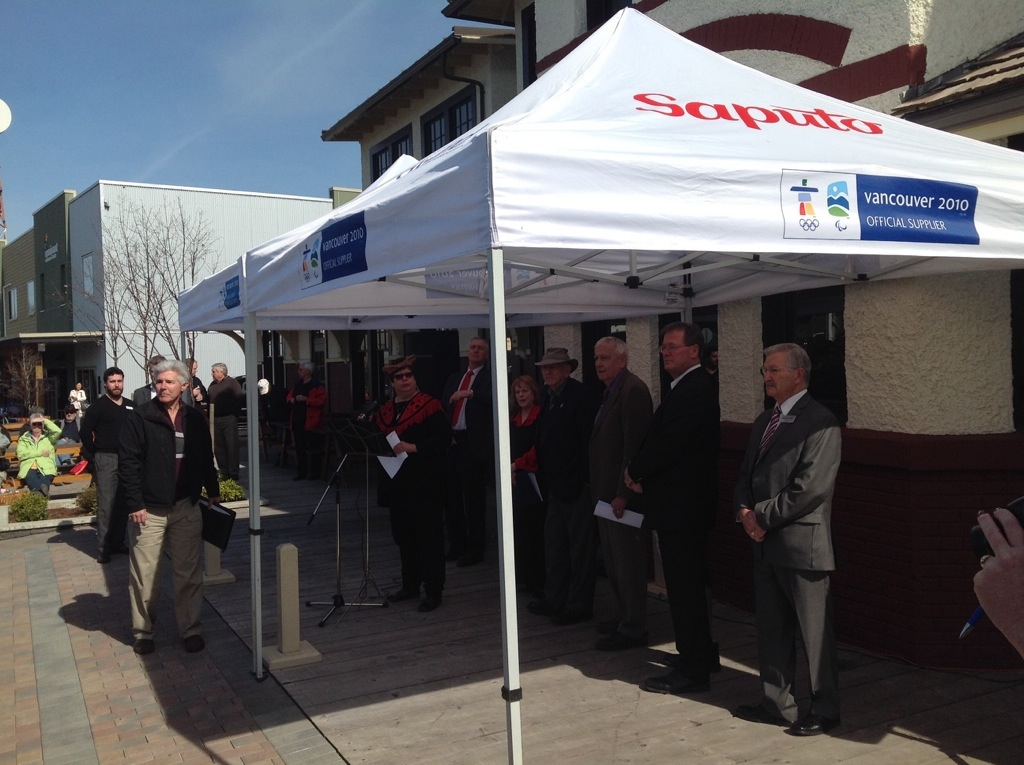 Co-Chair Mary Ashley said the agreement was tentative pending its ratification by the Boards of the ICF, SVI and VIA. The ICF annual general meeting is April 17th so one would hope it is ratified there.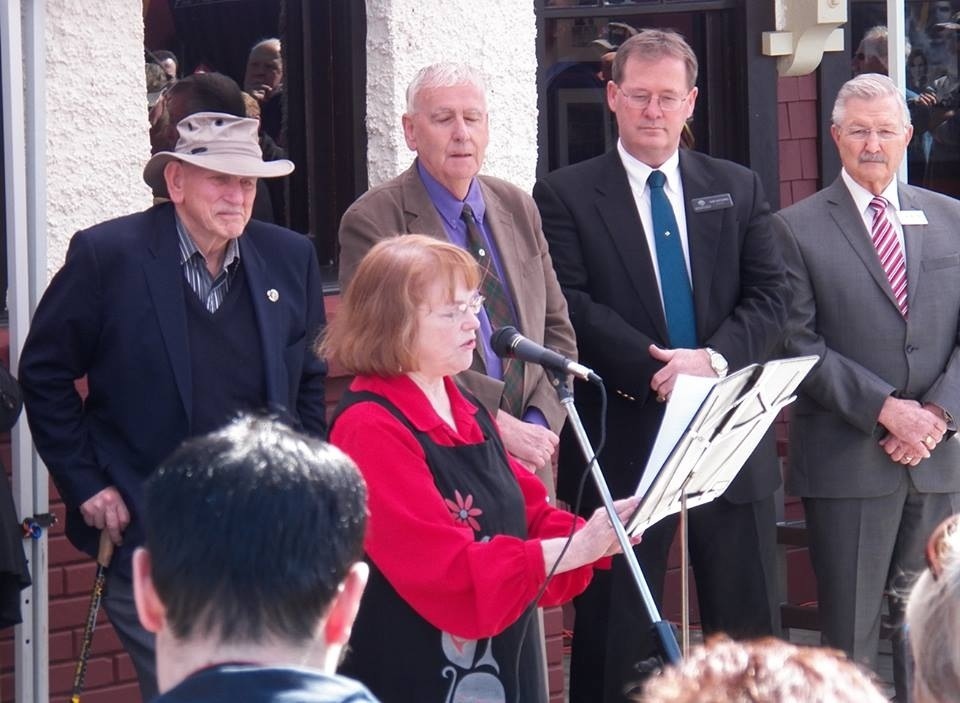 (Mary Ashley at the podium: Photo courtesy Bill Manners)
The new service schedule was not released but Ashley indicated the trains would now be based out of Nanaimo and so there would be a run from Nanaimo to Victoria in the morning, followed by the traditional run to Courtenay and back to Victoria, then finally a run to Nanaimo in evening.
Work on the track and bridge repairs needed to get things rolling would take approximately 9 months to complete once the agreements are signed, funds released from government, and work tendered.
On the freight side this work will mean the freight service can resume normal speeds on the entire line from Victoria to Courtenay with only a few exceptions. I chatted with an SVI employee who seemed genuinely grateful that this agreement had been reached and indeed the employees and personnel at SVI were applauded for hanging in there and getting a deal done with VIA as well.
This also means SVI will be able to pursue new and previous business that the railway served. The next step will be further upgrades to the bridges (and possible replacement as per recommendations in the BC Gov report) and then looking at refurbishing and reopening the Alberni sub to Port Alberni.
If all goes well I would hope we see full service resume on the Victoria-Courtenay tracks by Summer or early Fall 2015. It has been a long time coming but it seems like we are finally getting there.
This news also means perhaps a different reception from the RDN when they are presented with the Central Island Intercity Transit Service at an upcoming Board meeting (date TBD).
This is a great day for efficient and green transportation on Vancouver Island, Island jobs, and Island communities.
Here are some reports from other media outlets:
Comox Valley Record
>