And now for something a little different
Update: I will presenting this schedule and service to the Regional District of Nanaimo Board at their regular meeting on Tuesday, April 22nd 2014 at 7PM.
You can see and listen to the presentation on YouTube here:
Here is a mockup schedule for an Intercity Rail Service that would combine with and/or replace existing long bus routes. Click for: Full Mockup Bus Style Schedule(PDF), a Google Earth  file of routes and stops.
The schedules have been created to match as closely as possible existing bus schedule patterns but would of course be dependent on speeds and other things that would have to be professionally evaluated.  Average Speeds assumed are 80% of line maximums of 50mph except 35mph on Alberni.
(Click the image below for a larger version)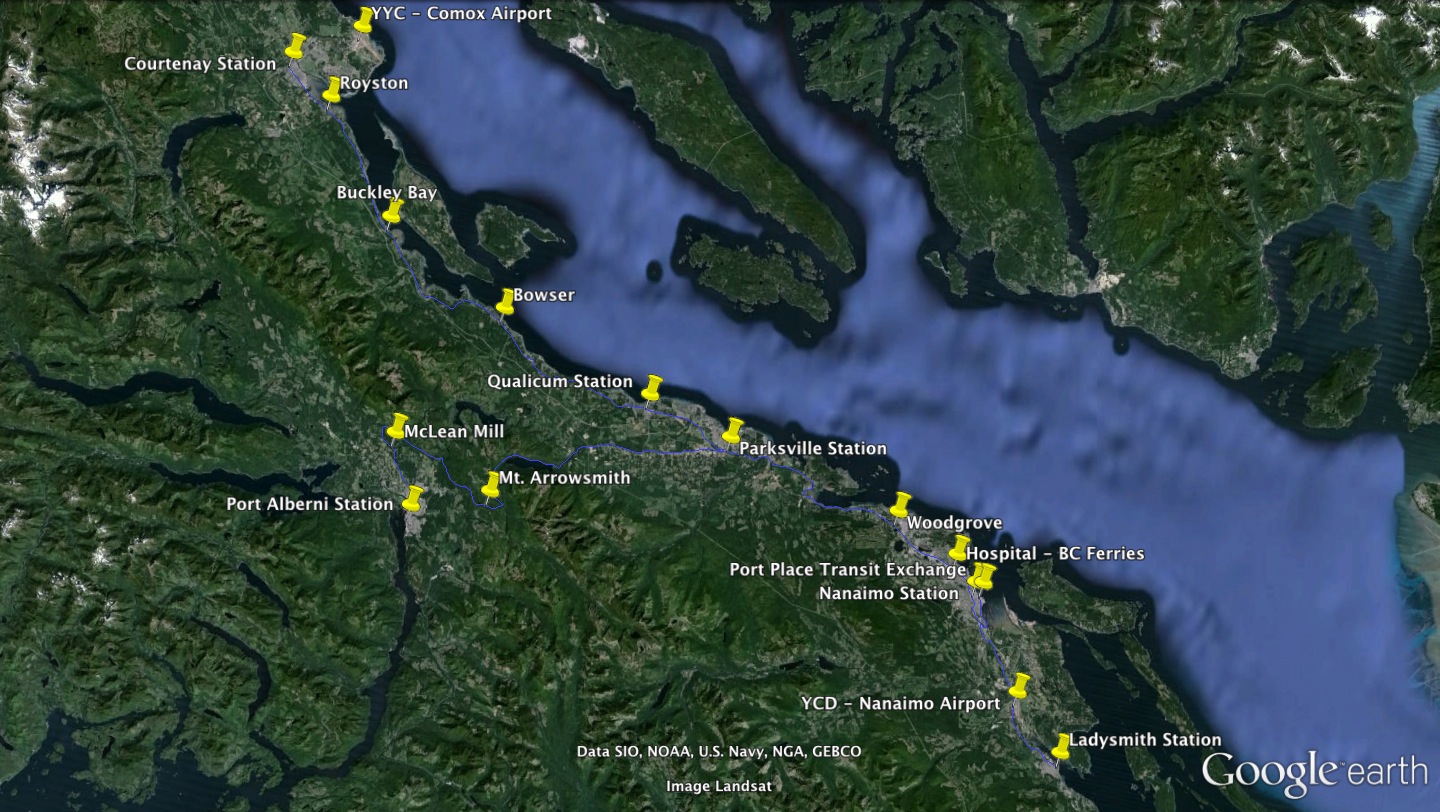 On all the schedules, times marked in green are meant to be "commuter" times, blue are "BC Ferries" connecting service, orange connects to Nanaimo Airport and purple are evening service.
---
Advantages:
The #90 bus service run by the RDN between Qualicum Beach and Downtown Nanaimo/BC Ferries has grown signficantly from a one bus per day/afternoon sparsely used service just 4 years ago.
This service would be faster in all respects. (23 minutes saved between Qualicum and Nanaimo Stations)
Many commuters using the bus are students and employees of VIU or NDSS.
 VIU and Nanaimo Regional General Hospital are the two biggest employers within Nanaimo City Limits yet NRGH still has terrible bus service simply due to its geography in the middle of Nanaimo yet far away from the commercial and bus gathering points.
Buses could be used to serve local areas more frequently especially in Oceanside.
Keys:
The same fares should be able to 'transfer' from rail  to bus without paying twice or needing a different  pass.
The following routes therefore would be integral and indistinguishable parts of the current Regional District of Nanaimo BC Transit Service.
---
Step 1 : Intercity Oceanside replaces #90
#100 –  Intercity Oceanside
service between Qualicum and Nanaimo (effectively replacing the #90 bus route)
Based on 2 runs in morning southbound by seperate individual trains (RDCs) then split up and one could do another run or sit idle until the two afternoon northbound runs.
Station Map (larger image linked):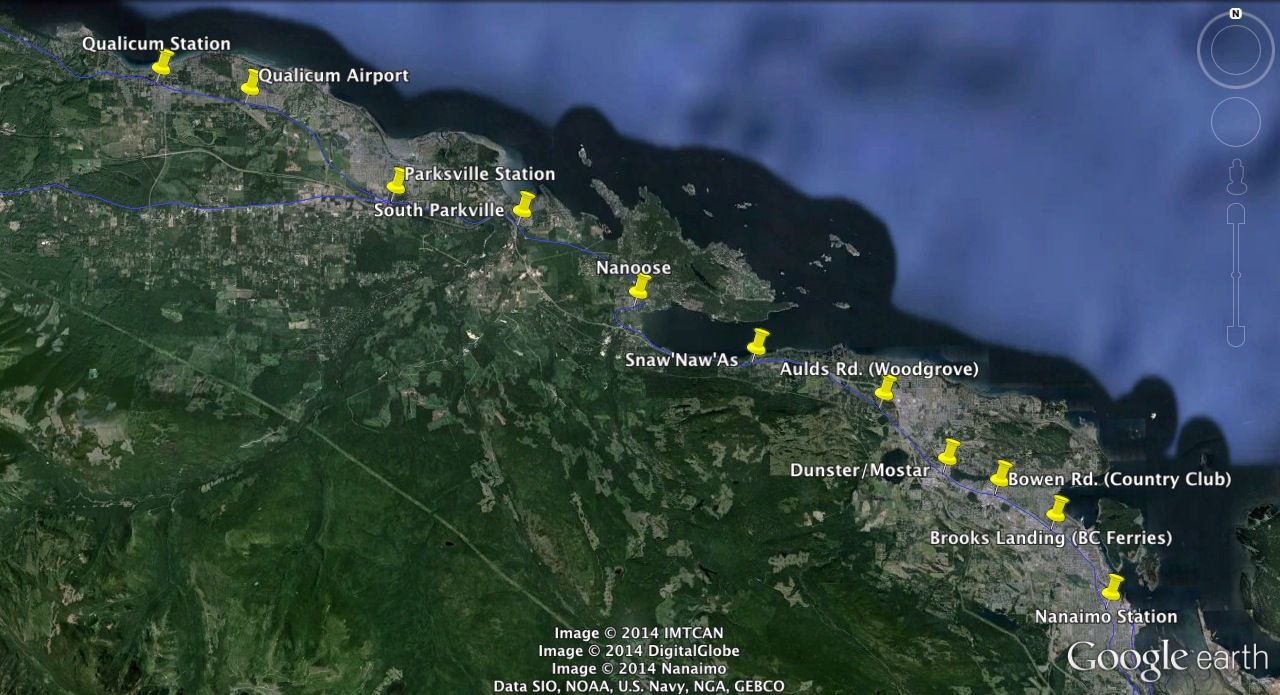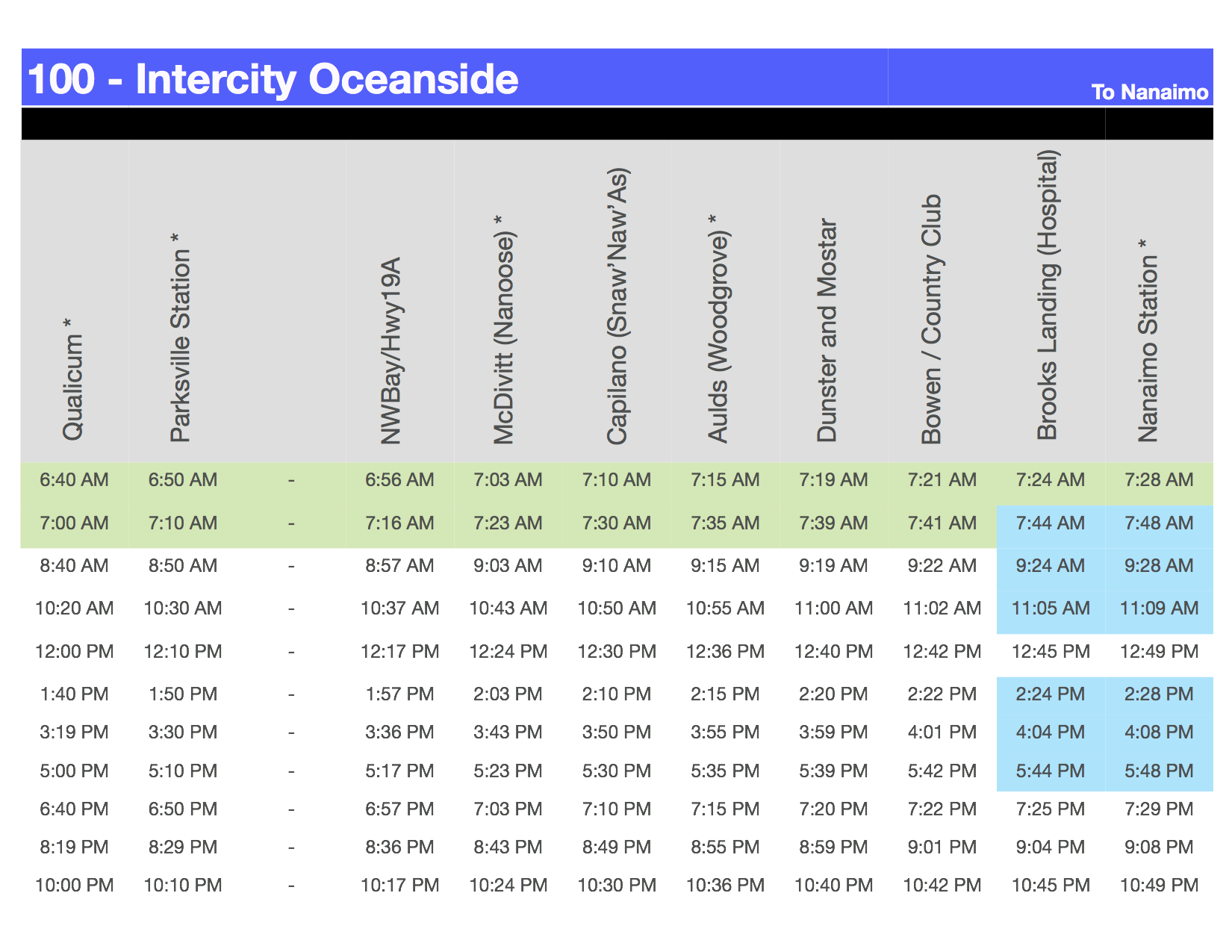 Key Advantages:
#1 Near-Direct service to NRGH.  It would stop 2 blocks from NRGH (also right beside a high school).  This would provide an almost 30 minute advantage over trying to take a bus in morning, and almost an hour in afternoon
#2 Fast Service to/from Downtown Nanaimo from Oceanside – Morning/Afternoon commuters from Nanaimo and VIU would make shorter connecting trip to downtown instead of all the way to Woodgrove.
#3 Good connections to BC Ferries.
---
Step 2 : Nanaimo City Shuttle replaces #8/#9
#110 Nanaimo City
Station Map (larger image linked):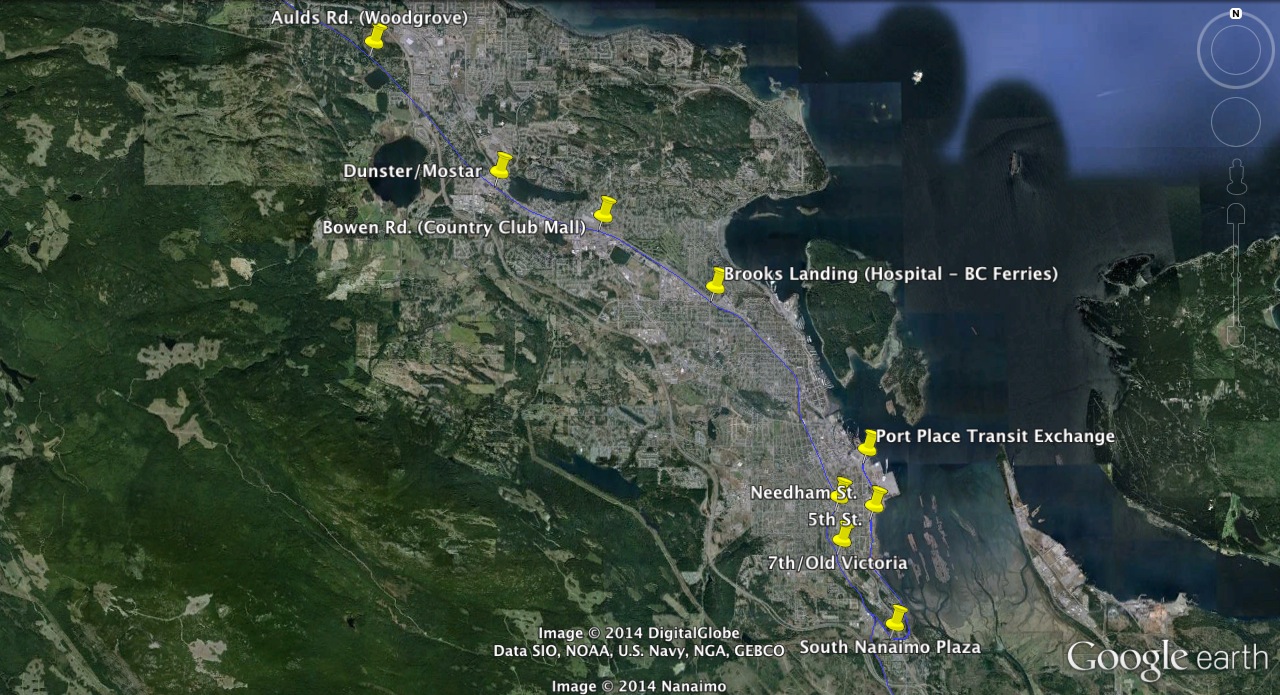 Nanaimo City shuttle service would potentially replace two existing bus routes with one train.  It would be significantly faster than the buses and much cheaper to run.  It would provide service to the Island Ferries terminal as well as connect people to southerly routes to the Airport.
The challenge with this route is some stops would  require short connector buses or new walkways/over/underpasses to the malls across the highway, particularly Woodgrove.  However, if the property across Highway 19 from Woodgrove were developed, it would be quite feasible to put in a pedestrian crossing or tunnel that would allow people easy access to and from.  It is a short distance as the crow flies.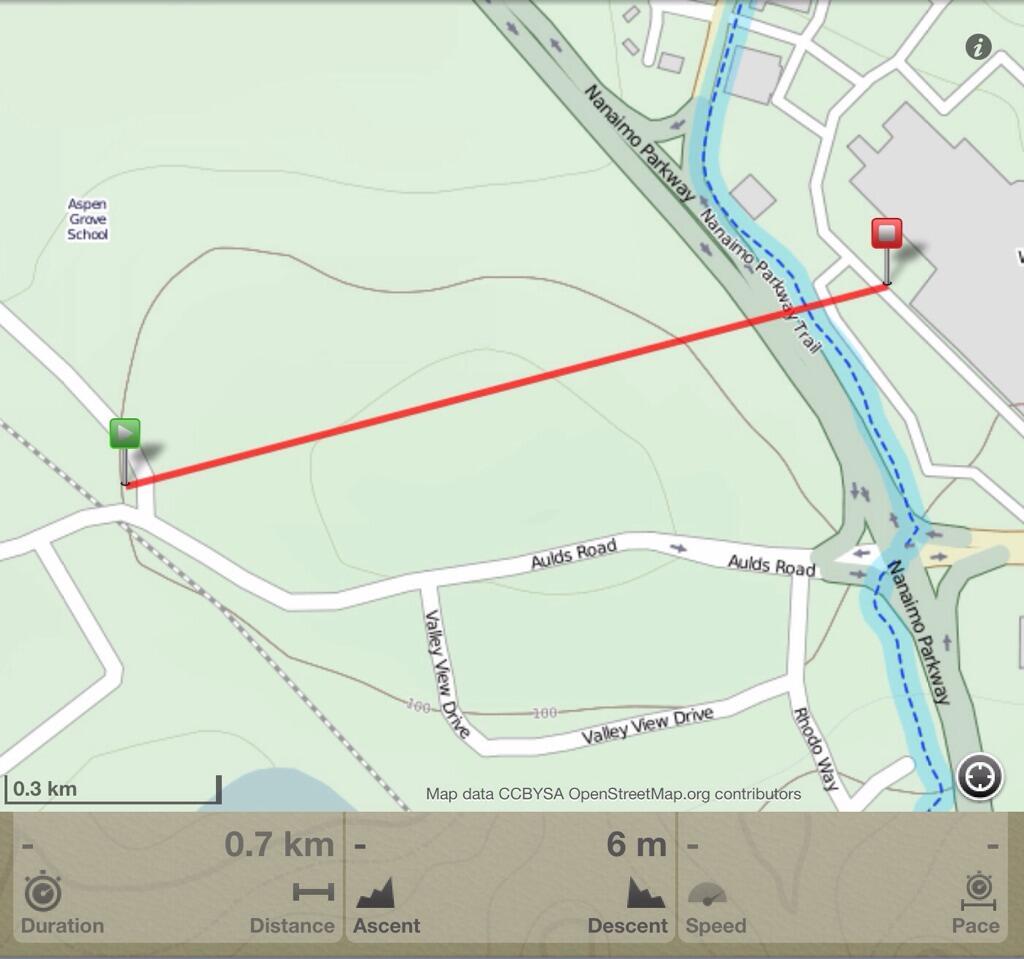 This would not be unprecedented in Nanaimo as there is a walking tunnel passing underneath the highway to the mall at the Brooks Landing/Hospital stop.  Woodgrove arrivals would be shuttled by one of the many buses (#10, #12, #15, #1, #2, #3) coming into Woodgrove with a short detour to Aulds Road.  It could also be conceivably served by a 700m path and tunnel under the highway (shown above).   North Town Centre and the Hospital would be accessed by connecting with the #3 at Mostar and Brooks Landing. Country Club could be served with a 2nd pedestrian overpass near Bowen Road.
The late afternoon/evening runs would require a 3rd RDC.
---
Step 3 :  Serving the Island Ferries, Airport, Duke Point (with bus) and Ladysmith
#120-Ladysmith Between Ladysmith and Downtown Nanaimo… this would be a great connector for the growing Nanaimo Airport and to take people from south of Nanaimo to and from the proposed Island Ferries fast ferry that would connect to direct to Vancouver Harbour.
Station Map: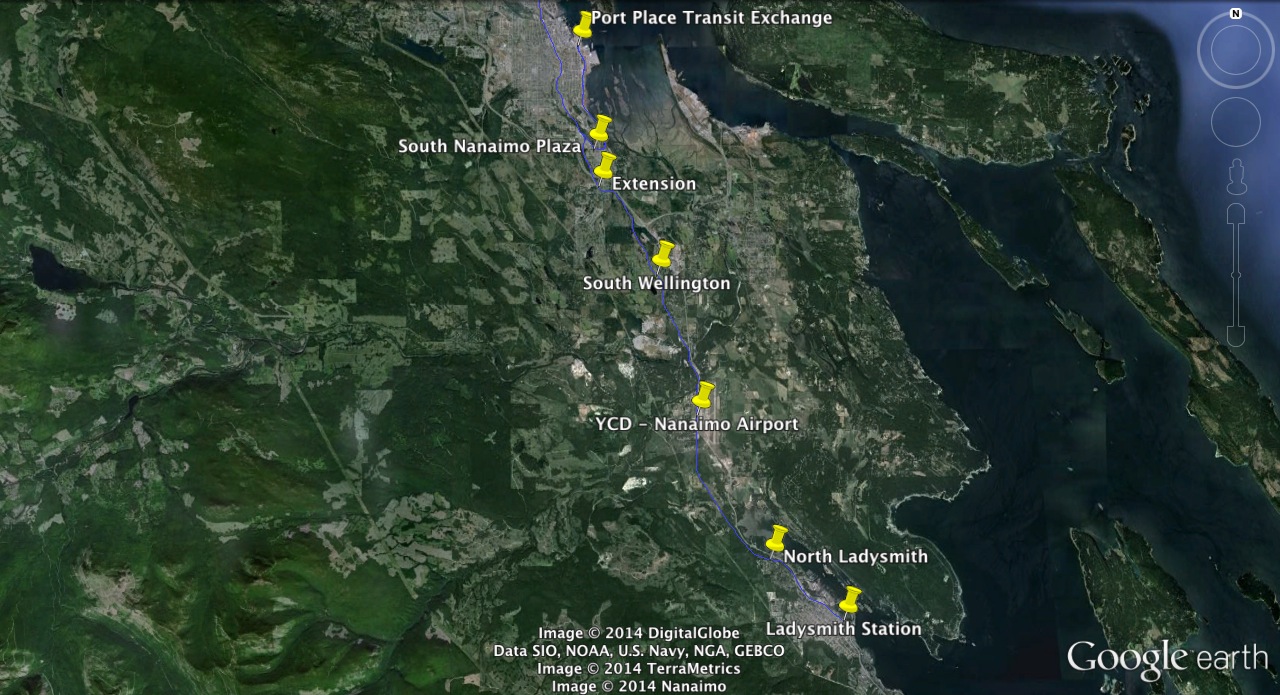 ---
Step 4 :  Connecting Courtenay, Comox Airport and the North Island.
#130-Courtenay – Qualicum – Connecting Oceanside and Courtenay with possible connections to the Comox Airport.  There are very good commuting opportunities especially considering the significant oil patch traffic through Comox Airport.
Station Map (larger image linked)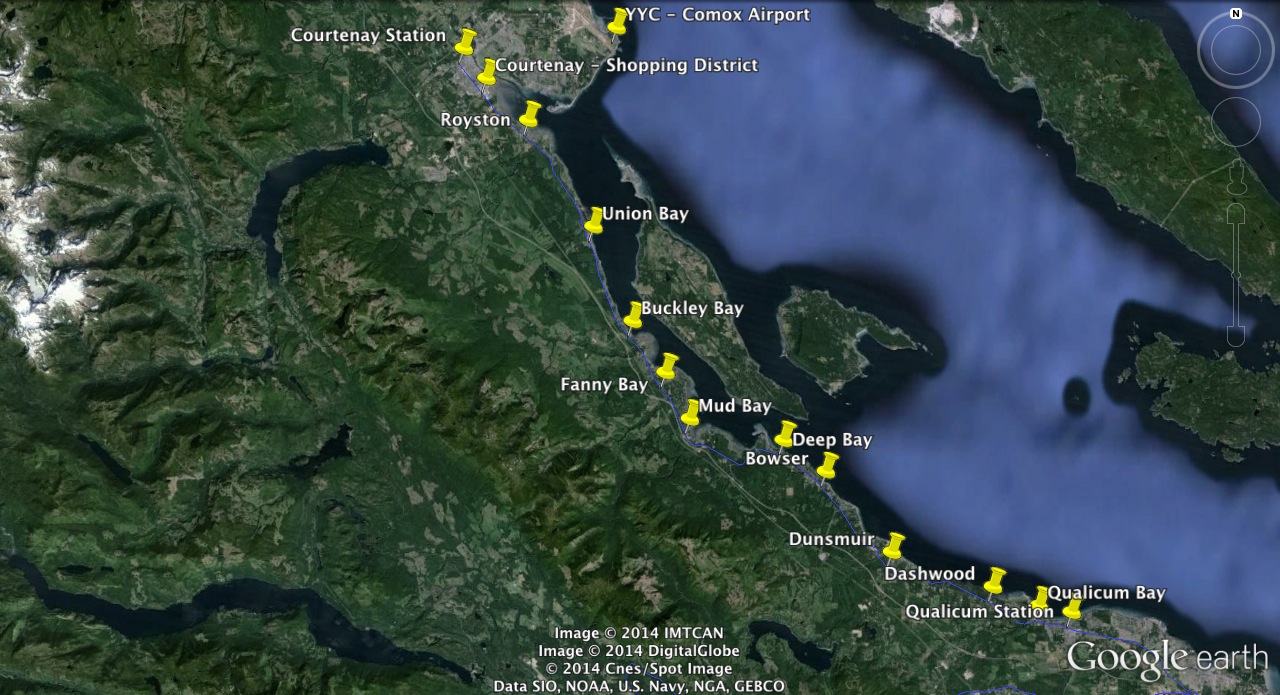 ---
Step 5 :  West Coast, Tourism, Cathedral Grove, Mt. Arrowsmith.
#140-West Coast Link – A long commuting treck but arguably the most potential for attracting tourists not only to points along the line but to connect service to the West Coast/Long Beach/West Coast Trail. Being able to touch down at YVR in Vancouver and take public transit all the way to Port Alberni on your way to the West Coast would be pretty great.
Station Map (larger image linked)